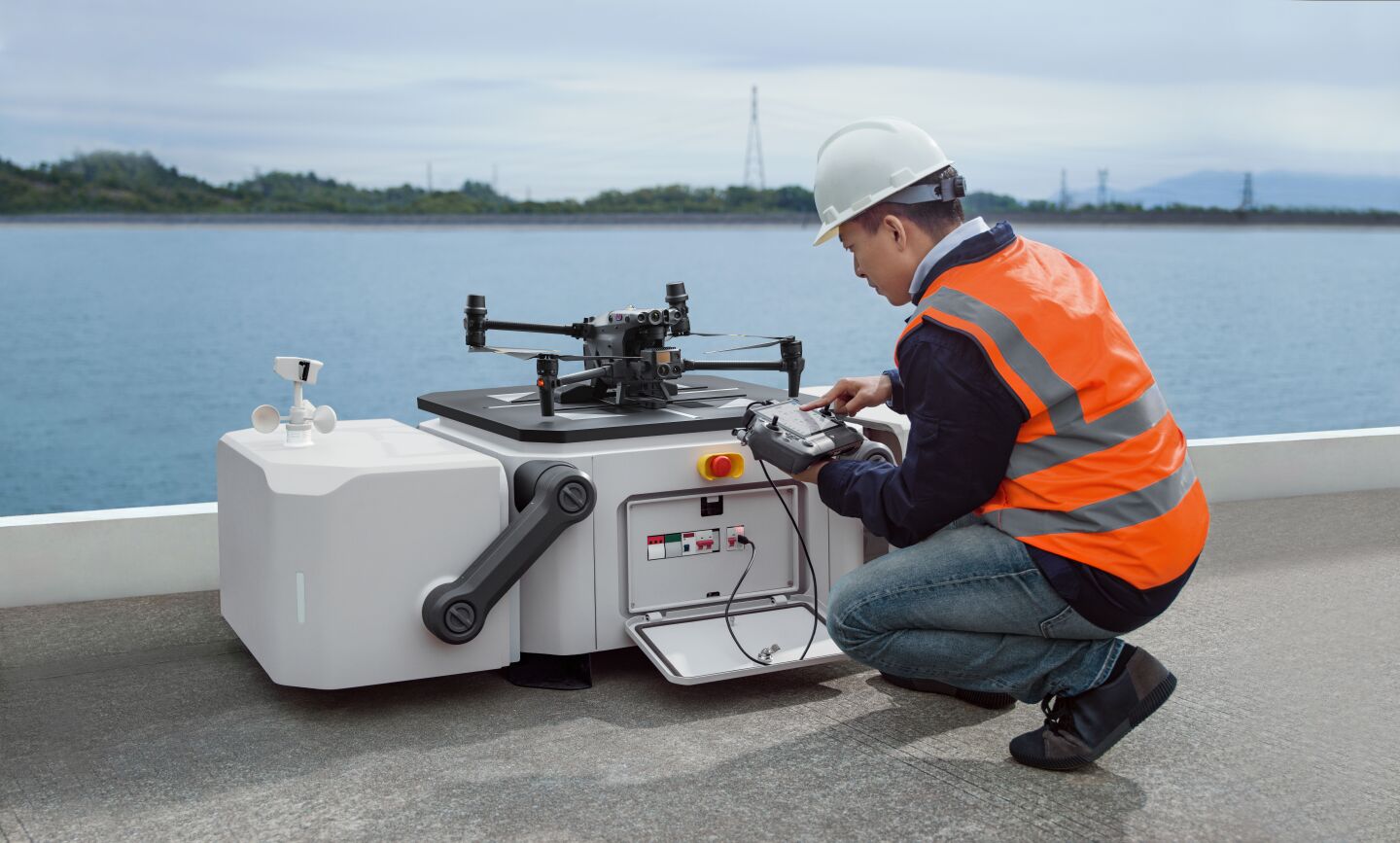 DJI MATRICE 30 SERIES GAME CHANGER FOR ENTERPRISE DRONES
DJI has released its newest edition in Matrice Series by giving you two addional enterprise drones with more power than ever before. The DJI Matrice 30 series combines the features of the Matrice 300 RTK and the Zenmuse H20 Series into a smaller platform. The all-new powerful, compact, and foldable platform is just as portable as the Mavic 2 Enterprise series drones, allowing you to take the M30 and M30T on missions in remote locations.
GREAT FLIGHT PERFORMANCE
The Matrice 30T features upgraded drone flight performance capabilities which make your flight smoother than ever before. The enterprise drone provides an extended flight time of up to 41 minutes paired with a maximum speed of 82.8 km/h. This allows you to explore more area than previous drones could, extending flight time and range to offer you greater flexibility in your mission. It can withstand winds up to 54 km/h and has an IP55 rating for dust and water resistance that ensures its safety from the elements no matter what the weather conditions.
Finally, the Matrice 30 series has an operating temperature range from -20° C to 50° C and a maximum service ceiling of 7000m above sea level, making it a more suitable choice for applications ranging in different sectors from public safety to infrastructure inspections.
COMPACT, FOLDABLE DESIGN
Whether you're conducting surveillance or performing a search and rescue in a remote location, The most important aspects of any enterprise drone is portability . The DJI Matrice 30T is lightweight and easily portable with a weight of only 3.77 kg. With its foldable arms and compact design, it's easier than ever to transport. When the drone is folded into its compact size, you can easily fit the M30 inside a backpack and carry it on foot.
POWERFUL CAMERA
Both enterprise drones in the DJI Matrice 30 series come with powerful cameras which are capable of filming videos at incredibly high quality. The DJI M30 features an integrated camera gimbal unit that contains a combination of three sensors, while the M30T contains a fourth sensor making it similar to the Zenmuse H20T.
On both the M30 and the M30T, there is a 48 MP zoom camera capable of 16x Optical zoom and 200x max hybrid zoom. Both drones also contain a 12 MP wide angle with a field-of-view of 84°. These sensors work together to shoot incredibly detailed video at 4K resolution at up to 30 fps. The FPV camera has low-light settings that make the ground and skyline clearly visible day and night, allowing you to fly safely no matter what time of day. You can also use Smart Low-Light Photo to further enhance your ability to capture bright, clear images in low-light situations.
---
The third sensor is a Laser rangefinder that can accurately measure distances up to 1.2 km away, which is incredibly useful for inspections and search and rescue missions. When you point the camera at an object within view, advanced sensor fusion algorithms will automatically provide you with its exact coordinates. The fourth sensor, which comes exclusively on the DJI M30T, is a high resolution 640×512 thermal imaging camera that allows you to find hotspots and heat signatures. This is incredibly useful for fire fighting applications or for finding lost persons during a search and rescue.
EXCEPTIONAL FLIGHT SAFETY
The Matrice 30 series comes with 360 degree obstacle avoidance to enhance flight safety. The drone contains dual-vision and ToF sensors on all six sides, giving you a combination of visual and infrared sensors that can detect obstacles up to 38 meters away. In addition to these sensors, Redundant Dual IMU, Compass, GNSS, and the Intelligent Flight Batteries all ensure the M30 series is safe no matter what the flight condition.
UPGRADED TRANSMISSION SYSTEM
DJI is continuously working to upgrade OcuSync, its dynamic transmission system, in order to enhance communication and extend range. Both the Matrice 30 and the Matrice 30T come with OcuSync 3 Enterprise, the latest edition of the Ocusync Enterprise communication system. OcuSync 3 Enterprise supports triple-channel 1080p video transmission and seamless switching between input feeds. The system is supported by four built-in antennas, two of which are removable, to ensure consistent transmission even in complex environments. You can even enhance your connection by using the DJI Cellular Module, which is an optional 4G dongle that allows you to keep video transmission stable in remote or other difficult work environments.
RC PLUS REMOTE CONTROLLER
DJI M30 series comes with the DJI RC Plus, a brand-new remote controller designed to be useful for many commercial applications. The RC Plus has IP54 dust and water resistance and can operate in extreme cold and heat ranging from -20°C to 50°C. It has a long-lasting internal battery in addition to a hot swap compatible external battery that allow it to operate for long periods of time without interruption. The combined battery system gives the RC Plus an impressive 6 hours of screen-on time.
The information on-screen for the RC Plus is viewable in all lighting conditions thanks to the peak brightness of 1200 cd/m2 and the high resolution of 1080p. The built-in tablet even runs a customized operating system developed by DJI Enterprise to ensure optimum performance every time. The RC Plus was ergonomically designed with six new physical buttons to allow pilots to learn how to operate the remote with muscle memory rather than relying solely on a touch screen. This makes it easy to seamlessly toggle through different camera views, drop PinPoints, and zoom in and out without having to move your hands away from the control sticks.
INTELLIGENT FLIGHT BATTERY CHARGING STATION
The BS30 Intelligent Battery Charging Station comes with three different modes to charge batteries. Standard Mode charges each pair of batteries to 100% one pair at a time. However, it can harm the batteries to keep them fully charged for a long period of time. Batteries will also charge at a diminishing rate, making that final 10% of the charge take quite a while. This is why it also offers the Ready-to-Fly Mode, which takes 30 minutes per pair to charge each pair to 90%, keeping it on standby while charging the next pair. The last mode is Storage Mode, which charges each pair to 50% and enhances the battery's longevity.
DJI DOCK
DJI FLIGHTHUB 2
FlightHub 2 underwent another software upgrade, allowing you to integrate data storage and fleet management with user-friendly tools. FlightHub 2 provides countless collaborative solutions that increase the situational awareness of the whole team from mission live streaming to live annotation. Through FlightHub 2, you'll see improved data sharing and communication that allows mission commanders to make better decisions and effectively deploy resources.
You can easily synchronize flight paths and missions between FlightHub 2 and DJI Pilot 2. Data from operations will automatically upload to FlightHub 2 Media Files for centralized management and analysis. FlightHub 2 also features an upgraded Live Mission Recording feature with an improved user interface, easy task recording, and target point marking that save 90% of operation steps. It even includes a 2.5D Base Map for fast terrain awareness, One-Tap Panorama Sync for a quick overview of the site, and Cloud Mapping for timely RGB or infrared mapping.
DJI MATRICE 30 SERIES: PERFECT FOR SEVERAL APPLICATIONS