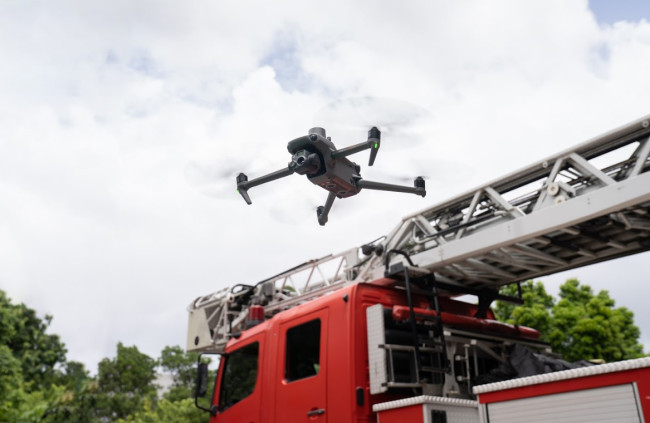 DJI has released Mavic 3 Enterprise and Mavic 3 Thermal Drones
DJI, one of the most well-known and popular commercial drone, has released their newest Mavic 3 Enterprise Drone Series. With all the drones in this series, it's said to be able to offer a perfect blend between high-tech and high-precision performance.
What are the benefits of a DJI Mavic 3 Enterprise Drone?
DJI Mavic 3 Enterprise Drone series offers many benefits for your business. They are easy to fly and offer great stability in the air. The drones are also equipped with powerful cameras that can take high-quality photos and videos. In addition, the drones come with a variety of intelligent flight modes that make them perfect for a wide range of commercial applications.
With the Mavic 3Enterprise drone , you can perform mapping and surveying missions with greater efficiency. The mechanical shutter and 56x zoom camera ensure that you are always getting the clearest and finest details possible. The RTK module provides centimeter-level accuracy to make sure that your mission goes as smoothly as possible.
The series is comprised of two drones: the Mavic 3 Enterprise and the Mavic 3 Thermal drones. For nighttime operations, search and rescue missions, inspections, and firefighting applications, the thermal drone is an excellent and powerful resource. You can detect hotspots, perform temperature readings, and compare side-by-side views with the DJI Mavic 3 Thermal zoom camera. This makes it possible to find missing persons among foliage, spot leaks, and see details no matter what the time of day.
DJI Mavic 3 Enterprise and Mavic 3 Thermal: Camera Specifications
The DJI Mavic 3 Enterprise and Mavic 3 Thermal have powerful imaging capabilities.
Optimised for surveying, the Mavic 3 Enterprise has a Hasselblad camera and a tele camera, while the Mavic 3 Themral has a wide camera, tele camera and a thermal sensor.
The table below shows the drones' camera specifications.
Mavic 3 Enterprise
Mavic 3 Thermal
Wide Camera
4/3 CMOS;
20MP;
Equivalent Focal Length: 24mm
1/2-inch CMOS;
48MP:
Equivalent Focal Length: 24mm
Tele Camera
1/2-inch CMOS;
12MP;
Equivalent Focal Length: 162mm:
56x hybrid zoom
1/2 inch CMOS;
12MP;
Equivalent Focal Length: 162mm;
56x hybrid zoom
Thermal Sensor
–
640 x 512 @ 30Hz
61° Display Field Of View