DELAIR UX11 the smartest mapping drone
Availability:
Out Of Stock
Delair UX11
Picture resolution:  21.4 Mpix
Estimated range: Up to 52  mins
Weight: 1.5 kg
Operating temperature: -20° to 45°C
flight range: 53km
Description
Delair UX11, the smartest mapping drone!
The Delair UX11 is a fixed-wing professional mapping drone offering significant productivity gains, unprecedented ease of use and high quality aerial data acquisition.
The Delair UX11 smart mapping drone allows you to pre-process data on board.
The UX11 is lightweight and easy to carry . It comes with a compact carrying case that you can easily carry on your back.
Its takeoff is done with ease, just throw it with one hand. For his landing, he has a descent incidence of 30° allowing him a fair and short landing.
The Delair UX11 has a  21.4 MP RGB camera. There is a real-time link between the camera and the ground control station to allow you quality control. You can also control camera settings and quality during the flight.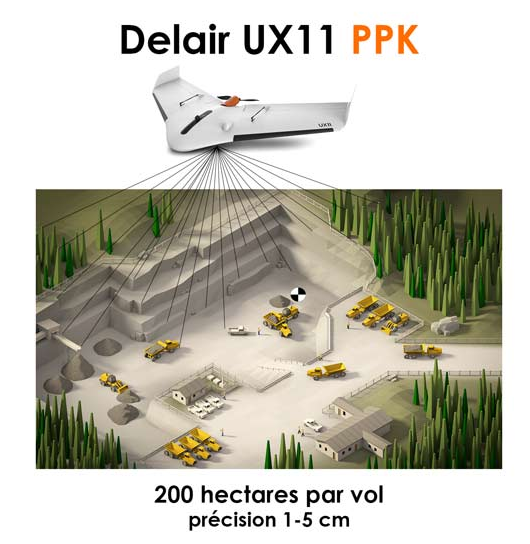 The Delay UX11 is equipped with a dual frequency GNSS (satellite position system) sensor and also uses satellite constellations (GPS and GLONASS), this will allow a user to be located. It uses the PPK which allows as and when guaranteed topographic results.
PPK is the same system as RTK, but the correction data is not transmitted live, it is stored in a file.
Using the "Delair After Flight" software, save time and your images will be automatically organized during their download, then you can perform the PPK processing.